How it works
CBW connects the coastal paths of the Costa Brava from north to south and divides them into stretchs that can be walked in one day. The routes are designed to be walked autonomously following the tracks that we give you with a smartphone or GPS. Each strectch has a defined level of difficulty that you will find detailed on the cards. At the end of each stretch there is an optional stopover with accommodation and breakfast.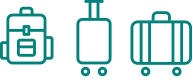 You can buy the track alone or the track plus accommodation. In the second case, we take care of your luggage and the transport from stop to stop, from one stretch to the next each day.

You can choose between two categories of accommodation: standard or comfort (taking into account that the availability of categories may vary according to the strectch and season chosen). You can also choose whether to do continued or alternate strecthes as well as all the options available in the pre-booking process: insurance, picnics, guide service, additional activities, etc.

We also offer you the option of transport from/to the nearest airports and train stations (Figueres/Girona/Barcelona) to/from your starting/end point.
Choose the route you want, download the track to your GPS or smartphone, and we'll take care of the accommodation and transfer!

In case of bad weather
It is very important that you look at the weather forecast before starting your route. You must always know what weather to expect beforehand and take all the necessary precautions.
In some stretches there are parts that pass very close to clifftops (indicated on the technical card). We advise you avoid these parts in the event of strong wind and take the alternative itinerary if there is one.
If you're in danger, call the Emergency phone line Emergencies 112
To know the weather forecast, go to www.meteo.cat
Recommendations
Here we give you a series of simple tips and practical recommendations to walk any of our routes in the best possible conditions:
Windbreaker
and/or raincoat
Trekking poles for difficult sections
First-aid kit
Mobile phone
Sufficient food and water
Sunglasses
Towel and swimsuit
Sunscreen
Hat
Breathable socks
Mountain shoes or boots
Comfortable trousers
Breathable T-Shirt
Jacket or fleece if outside the summer months
Documents and some cash
The ideal way is to dress in layers to take off or put on according to the temperature: a close-fitting technical t-shirt, a fleece and a windbreaker should be enough.
Conditions of sale
Check here our Conditions of sale.